Genèse d'une forêt ou promenade sur les mains dans la forêt takes its foundation in the metaphor of the "forest carpet". In its first version, this kinetic sculpture consisted of a woven porcelain carpet interlaced with fungus-like shapes made of porcelain and different materials, an inflatable structure, different mechanical devices, a sensor and a microcontroller. It insufflated some life back into this dead metaphor by making the woven carpet move as if it were breathing. This breathing movement ultimately suggested that, even though fired clay is perceived as a stable and permanent material, it has the potential to "grow" and transform into something else—like language and natural phenomena.
In its second version, the modular structure of the sculpture was modified to emphasize on a different aspect of this project: three piezoelectric microphones are placed under the porcelain carpet and the viewer is invited to interact with the piece to hear the sound of her/his interaction amplified through three speakers installed at different distance from the porcelain carpet. The speakers placed in such a way suggest the poetic sound of a stroll , with its typical echo, in the forest. In all its possible version, this sculpture suggests that ceramics is still in a geological process of perpetual sedimentation and erosion.
Birch plywood, porcelain, glaze, fibre, stainless steel wire coated with nylon, polyester thread, piezoelectric microphones, amplifiers, speakers, variable dimensions.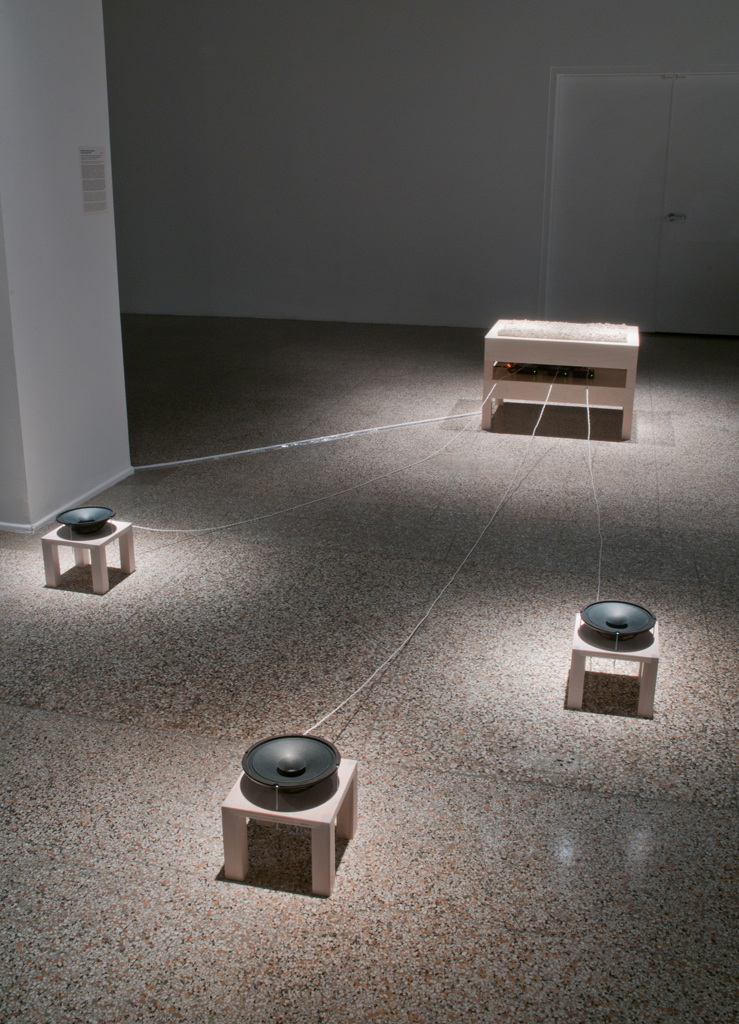 Photo credit : Étienne Dionne
---
Photo credit : Jenna Edwards